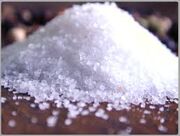 Uses For Salt

[

]
Tailsman against evil
"Common slat has long enjoyed a reputation as a means of procuring Enchantment." - Theraputic Magic
Carrying Salt as protection against spirits/spirit enemies of any kind.
"The Ancient Tuitors believed that the swift flight of birds was caused by certain powerful spirits of air.  Now salt is a foe to ghostly might, imparts weight to body parts and impedes their motion."

Impede bird flight

Protection barrier against ghostly mights.
Uses for Specifically for Sea Salt:
[
]
Cleansing
purification
Grounding
Protection magic
Ritual Magic
TYPES OF SALT:
[
]