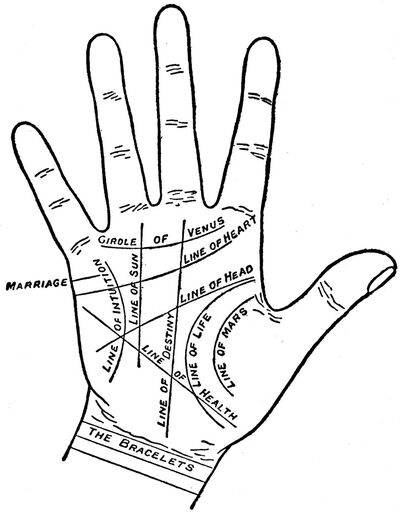 Palmistry
(also known as
Cairomancy
and
Palm Reading
) is the art of reading the lines and mounds on a person's palm to read their personality, life and future.
Life Line - Quality of Life

Long - Energetic disposition, strong reserves of personal power
Downward towards the wrist - Intense internal fortitude
Straight (no curves) - Limited stamina
Breaks off somewhere - Obstacles in health/recovery/caution
Fork at the end of the wrist - Journey that affects your life.

Head Line - Intellect

Runs less than half of the palm - Singleminded
Runs across palm towards little finger - Intelligent, logical minded
Runs down Lunar Area - Creatively-free person
Runs down, curves up at wrist to little finger - Financial Success

Heart Line - Love

Begins on Mount of Jupiter - Soulmate
Begins in middle of index and middle finger - Willing to accept reality
Chained - Disappointment in love, cautions
Drooping Line - Trouble with opposite sex
Forked at the beginning - Can meet life and love without an open mind.

Fate/Destiny Line - Course of Destiny

No Line - Peaceful and quiet life
Clear, deep, straight - Success with person change
Wavy Line - Argumentive, unsystematic, sloppy
A break in the line - Unplanned changes
Begins at the heart or head line - Success may come later in life, usually after age 40

Line of the Sun - Luck and Fortune

No Line - Hard workers, don't rely on luck or destiny
Runs vertically between wrist, up ring finger - Clues for lucky breaks (longer the line = more luck)

Girdle of Venus - Sensitivity

With line - Enjoys good living and physical pleasure
Without line - overly sensitive socially

Hepatica/Line of Health - Health through lifetime. Age starts the youngest at the top and ages downward.

No Line - Strong Constitution, Excellent Health
Deep Line - Succeptable to Illness
Wavy Line - Intestinal/Digestive Problems
Blurred/Ragged Line - Needs extra care in one's endurance
Touches Life Line - Healthy lifestyle should be top priority

Marriage Lines - State of Marriage

Strongly Marked Line - Fulfilling Alliance, close relationship(s)
Number of Lines - Number of Marriages
Broken Line - Challeging, intimate relationships, possible divorce or seperation
Long, Straight Lines - Lengthy, fortunate, intimate alliances
Begins with a fork - A stormy start
2 Marriage lines meeting - Poly-active relationships

Children Lines - Condition of Children

Strong Lines - Forceful, assertive personalities
Faint Lines - Artistic, sensitive, generous personalities

Via Lasciva - Social Etiquette

Straight Lines - Bores easily, tires of details
Long, Straight, Deep - Strong powers of persuasion.
Curved - Little Self-confidence
Curves from Mount of Venus - Self-indulgent
Branching Lines - Good with money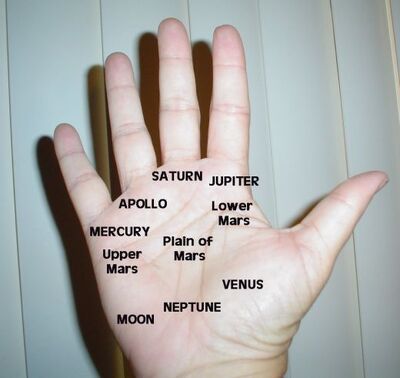 Mount of Apollo - Outlook on Life

Nickel-Sized - Bright, vivascious, grasps oportunities, creative tendencies
Quarter-Sized - Self Indulgent
Dime-Sized - Dull, Imperceptive

Mount of Jupiter - Temperament and Nature

Nickel-Sized - Good tempered, determined, works through endevour, above average ability to succeed.
Quarter-Sized, Puffy or Prominant - One-track minded, workaholic
Dime-Sized, Flat or Underdeveloped - Thoughtless, egocentric or lacking in self-confidence
Connects to Mount of Saturn - Loner, happy working alone, does not do well with others in partnerships or teams.

Mount of Lower Mars - Will and Courage (Physical)

Nickel-Sized - Physically brave, has a persistant streak
Quarter-Sized, Flat - Lacks courage, fearful of pain thus avoids athletics
Dime-Sized - Arguementive, strong-willed, unable to conceide despite errors, risk-taker and daredevil

Mount of Upper Mars - Will and Courage (Morale)

Nickel-Sized - Strong morals, courageous personality
Quarter-Sized - Sharp-tongued, Cynical, Pessimistic
Dime-Sized, Flat - thinks only of themselves, may have a cowardly way of seeing things

Mount of Mercury - How one handles a problem

Nickel-Sized - Clear-Thinker, hard working, thrifty, good team player
Big and Puffy - Sincere sense of humor, thrives in amusing others
Overly Large - Could sell anything to anyone, avoids details for the sake of benefit
Marked by a short, straight line - Healing nature, soothing

Mount of the Moon - Psychological Insight

Nickel-Size - Creative romantic, joyful, psychically sensitive, involves themselves in the ocean
Very Prominent - Hard, coarse, introspective, uncaring to their fellow man
High on the palm - Powersul creative tendencies that should be followed
Well developed, soft - Inconsistant, flighty, natural dreamer
Reaches Mount of Venus - Passionate for lust and life
Close to Wrist Line - Possesses psychic gifts

Mount of Saturn - Problem Solving

Nickel-size - Introspective, persues academically, thrifty, quick to sound descisions
Dime-size, flat - One who favors middle road, content without aiming high
Large, puffy - Pessimistic, melancholy
Close to Mount of Jupiter - Quiet with strong ideas and goals
Leans toward Mount of Apollo - Intense love of art, creativity and other beautiful things without having talent themselves (usually)

Mount of Venus - Stress

Wide, firm, puffy - Warm nature, embraces life, compassionate
Extremely large - Remarkable energy
Firm - Highly developed libido
Soft and pliable - Overly agitated, easily stressed, possibly capricious
Closer to lower portion of the palm - Uses artistic skills to focus and accomplish things
Community content is available under
CC-BY-SA
unless otherwise noted.