My Will Be Done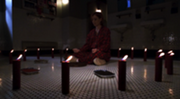 Source: Buffy
This spell was meant to project the desires of a witch or warlock into reality simply by stating their desire.
Incantation:
Edit
"Harken all ye elements, I summon thee now. Control the outside, control within. Land and sea, fire and wind. Out of my passions, a web be spun. From this eve forth, my will be done. So mote it be."
Community content is available under
CC-BY-SA
unless otherwise noted.