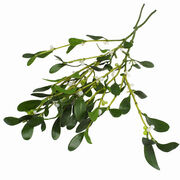 *CAUTION: POISONOUS!*
.Mistletoe is the common name for obligate hemi-parasitic plants in several families in the order Santalales. These plants attach to and penetrate the branches of a tree or shrub by a structure called the haustorium, through which they absorb water and nutrients from the host plant.
fertility

protection charm from negative
energy or curses.
Use as a charm for luck while hunting
Community content is available under
CC-BY-SA
unless otherwise noted.