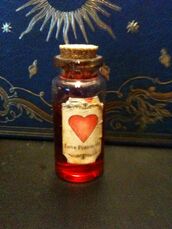 This Love Potion is a potion used in the "Guardians of Magic" series.
None of the Love Spells in the series works unless the drinker drinks this love potion.
*copyrighted: SKL*
DO NOT ALLOW ANYONE BUT YOUR SUBJECT DRINK THIS POTION!
Ingredients:
Edit
3 oz sweet red wine
2 red rose petals
cinnamon
2 passion flower seeds
10 drops vanilla extract
8 drops strawberry juice
4 drops apple juice
1 ginseng root cut into 6 equal pieces
Instructions:
Edit
Mix ingredients in a copper pot and stir with wooden spoon until potion begins to simmer
Remove from the heat and allow potion to cool fully.
cover and refrigerate until ready to serve to the man/woman's desired, love or affection you crave.
Community content is available under
CC-BY-SA
unless otherwise noted.