Hibiscus is a genus of
flowering plants
in the
mallow
family,
Malvaceae
. It is quite large, containing several hundred species that are native to warm-
tem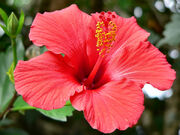 perate
,
subtropical
and
tropical
regions throughout the world. Member species are often noted for their showy
flowers
and are commonly known simply as
hibiscus
, or less widely known as
rose mallow
.
Attract love/Lust
promote dreams
diviner
Useful as an aphrodisiac and in love spells. Also use to induce dreams, and enhance psychic ability and divination. Soothes nerves, antispasmodic. Tea aids digestion, and sweetens breath. Helpful with itchy skin
Community content is available under
CC-BY-SA
unless otherwise noted.