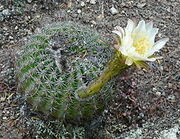 A cactus is a member of the plant family Cactaceae, within the order Caryophyllales. The word "cactus" derives, through Latin, from the Ancient Greek κάκτος (kaktos), a name originally used for a spiny plant whose identity is not certain. Cacti are native to the Americas, ranging from Patagonia in the south to parts of western Canada in the north—except for Rhipsalis baccifera, which also grows in Africa and Sri Lanka.
Uses in Witchcraft
Edit
It can be mixed with other banishing symbols for protection. Grow in the home or garden for protection of the home. Best to place in all directions of the home (north, south, east, and west) to ensure full protection. It's needles, instead of whole plant, can be used in spells/charms for protection
Community content is available under
CC-BY-SA
unless otherwise noted.