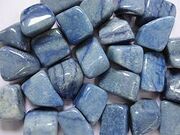 Blue Quartz is found in the USA, Africa, Russia and England. It is a high vibration stone that brings happiness,. It inspires hope, calms the mind, assists in understanding your spiritual nature, instills mental clarity, sparks creativity, and helps you reach out to others. Blue Quartz brings well-being. It helps the organs depression, the immune system, throat, spleen and endocrine system. It also carries all of the healing properties of Quartz.
Community content is available under
CC-BY-SA
unless otherwise noted.