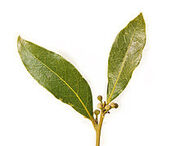 Fresh or dried bay leaves are used in cooking for their distinctive flavor and fragrance. The leaves are often used to flavor soups, stews, braises and pâtés in Mediterranean cuisine. The fresh leaves are very mild and do not develop their full flavor until several weeks after picking and drying.
Uses in Witchcraft:
Edit
money

prosperity

strength

divination

psychic powers

purification

Use in potions for visions, clairvoyance and wisdom. Place under your pillow to induce prophetic dreams. Carry to ward off evil, and scatter or burn for exorcism. Add to cleansing teas and baths. Scatter on the floor, and then sweep out for protection. The priestesses at Delphi are said to have chewed bay leaves to induce their visions and prophesies.
Community content is available under
CC-BY-SA
unless otherwise noted.