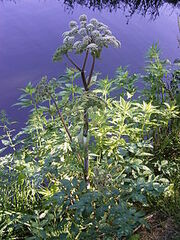 Angelica species grow to 1–3 m tall, with large bipinnate leaves and large compound umbels of white or greenish-white flowers. Their large, sparkling, starburst flowers are pollinated by a great variety of insects (the generalist pollination syndrome), the floral scents are species-specific, and even specific to particular subspecies.[ The active ingredients of angelica are found in the roots and rhizomes and contains furocoumarins in its tissues which make the skin sensitive to light.
Uses in Witchcraft:
Edit
Healing
Protection from Negative forces
Use in protection and exorcism incense, and also carry the root in a pouch as a protective talisman. Add to bath to remove hexes. Smoking the leaves can cause visions. Angelica protects by both creating a barrier against negative energy, and by filling it's user with positive energy. Removes curses, hexes, or spells that have been cast against you. Enhances the aura, giving a joyful outlook. Relieves tension headache, diuretic, beneficial to the stomach and digestion. Relieves buildup of phlegm due to asthma and bronchitis. Use with caution- Large doses can negatively affect blood pressure, heart, and respiration. If pregnant, can cause miscarriage.
Community content is available under
CC-BY-SA
unless otherwise noted.