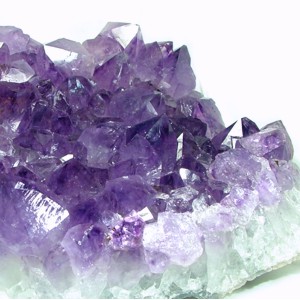 Amethyst
, a purple quartz, is a stone steeped in ancient magic. It is, perhaps, as popular today as it was two thousand years ago.
Energy: Reception
Planet: Jupiter, Neptune
Element: Water/Air
Chakra: Sahasrara
Deity: Bacchus, Dionysus, Diana
Powers: Dream, Overcoming, Alcoholism, Healing, Psychism, Peace, Love, Protection Against Thieves, Courage, Happiness
Uses in Witchcraft
Edit
Placed beneath the pillow or worn to bed, amethyst drives off nightmares and insomnia. It produces a peaceful sleep, healing and even prophetic dreams. However, it will also ensure that its wearer does not oversleep.
A spiritual stone, with absolutely no negative effects or associations with violence, anger or passion, this stone is a stone of peace. When the stresses of life overwhellm you, place in the hand you are not dominant in. Let it's soothing, de-stressing and peaceful vibrations sink into you. Wear amethyst so that it touches your skin to rid you of bad emotional states (even in  distressing moments), wards off guilt and self-deception, helps overcome addictions and over-indulgence and bestows good judgment.
The amethyst calsm fears, raises hopes, lifts spirits and promotes spiritual thinking within us. It provides courage, and is a powerful amulet for travelers. It protects against thieves, illness, harm and danger.
Community content is available under
CC-BY-SA
unless otherwise noted.